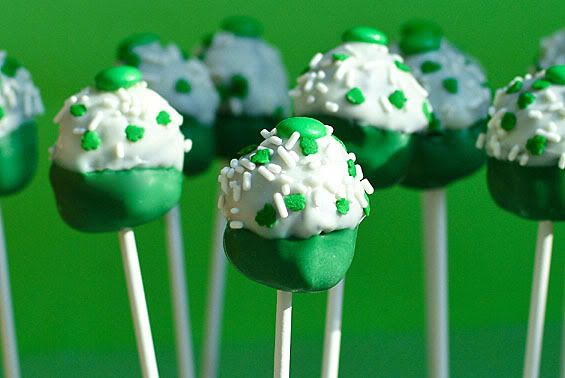 Since I first posted this back in 2009 a lot has changed since then! I am now selling a
Cupcake Pop Mold
that I designed to help make the process go a lot smoother! I also, now use Make n' Mold Candy Melts or
Merckens
which I like much better and I use
paramount crystals
to thin the candy melts and get them to a nice consistency (not necessary but it you have ever used candy melts and found them to be too thick you know what I mean when I say sometimes they need to be thinned out).
Anyway if you want to visit My Little Cupcake's Website, it is www.MyLittleCupcakePop.com
and you can check out our full line of sprinkles and candy melts if you do not have them in your area.
These cupcake pops are a great project to make with your kids for St. Patrick's Day. They are so much fun to do and your kids will have a blast making and decorating them. They also make great presents!
Shopping List:
Your My Little Cupcake™ Cake Pop Mini-Mold™
Cake Mix
Frosting
Candy Melts
Green M&M's
Shamrock Sprinkles
Lollipop Sticks
Candy Bags (if wrapping)
Green Ribbon (if wrapping)
Additional items that are helpful:
Egg Carton
Styrofoam board
I made these cupcake pops with a chocolate cake out of a box and mixed with Vanilla Buttercream Frosting. My husband and children loved them but I thought they were a little too sweet for my taste. Next time I will go back to Cream Cheese Frosting.
I always use my hands to mix ~it goes much faster and I like to feel the texture of the dough and make sure I am getting the consistency I like.
Once you have mixed your dough and made your shapes you are ready to dip. Melt green chocolate candy melts and dip the bottom of the cupcake into the melted candy covering your bottom completely. Now place your stick inside the pop.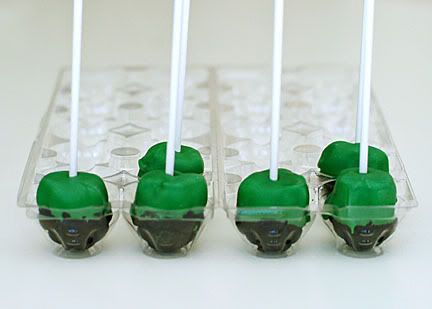 I use an egg carton for placing my cupcakes to dry during this stage and to store them until they are ready for the next stage. It keeps them from falling all over the place.
Now melt the white candy melts. Get your sprinkles and M&M's ready. Dip the top of the cupcake into the melted white candy, sprinkle on the shamrock mix and top with a green M&M with the writing facing down. Use your styrofoam board for placing your cupcake pop to dry.
---